Previous article in this series: Is Your Budget Bar Too Low?
In our State of Corporate Budget 2018 survey, we asked nearly 250 business leaders about their budgeting tools and processes.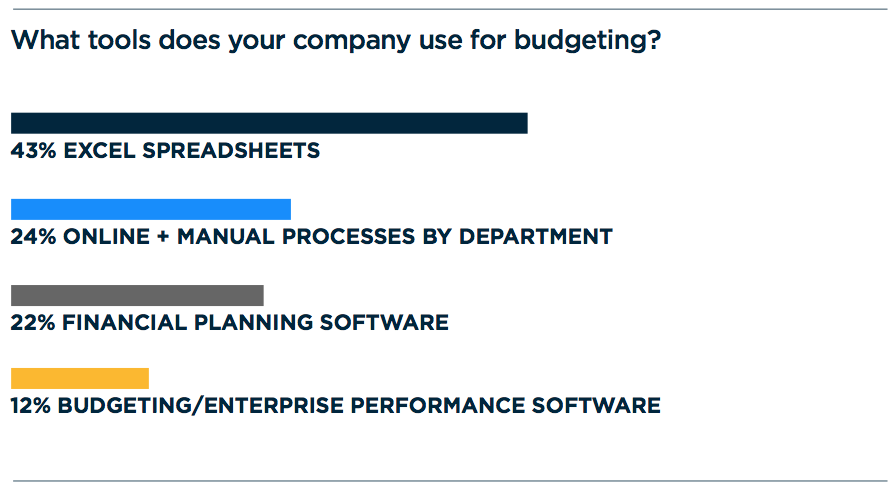 An Excess of Excel
Spreadsheets remain the most popular way of managing the budget for companies of all sizes, though Excel is particularly prevalent at smaller companies.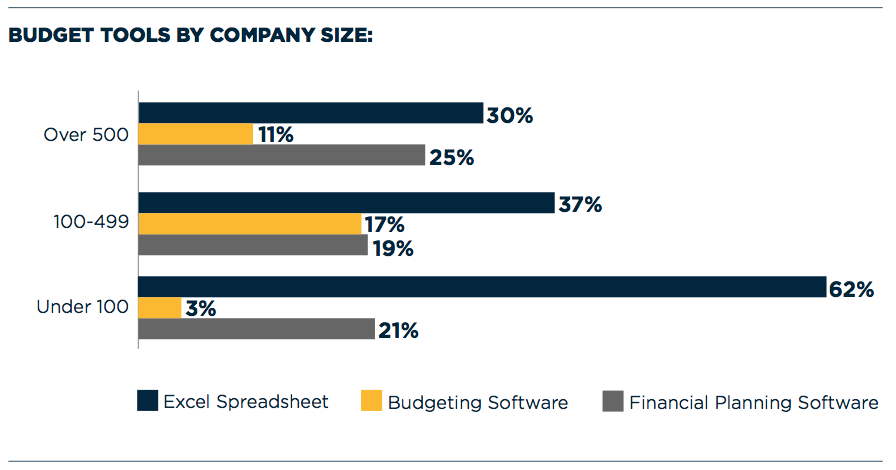 Regardless of the mix, when asked about simplifying budgeting and expense reports, only about a third of the respondents (37%) felt they had good tools and processes in place. And reliance on time-intensive, manual processes such as spreadsheets and paper receipts was one of the top reasons that companies graded their own budget process poorly.
Budgeting Software No Silver Bullet
Only 12% of the companies we surveyed use dedicated budgeting software—and those who do still struggle with common budgeting issues.
More than half still go over budget at least sometimes.
75% still feel there is a lack of visibility into company spend.
Among the companies who use budgeting software, ongoing communication and updates across departments (90%) still beats out good tools and processes (77%) as the top driver of an effective budget process.
Financial Planning Software Lightens the Load Somewhat
About 20% of the companies we surveyed use financial planning software like SAP or Quicken. The use of these tools significantly improves the perception that tracking and managing the budget is too time-consuming—only 11% noted this as an issue, compared to 26% overall. However, companies using financial enterprise software were somewhat more likely to budget on an annual cycle (59% vs 55% overall), and more likely to go over budget at least sometimes (71% vs. 64% overall). And ongoing communication and updates across departments (72%) far outpaces good tools and processes (42%) as a top driver of budget effectiveness.
Center Team Take
While many companies rely on a combination of tools to manage budgets, spreadsheets remain the primary tool for most. Creative finance departments push the technological boundaries of spreadsheets, but they're hitting their limits. Tools to manage critical operational functions like budgeting must include better communications, access to real-time data, and intelligent analytics. | Heather Singh, CMO

TO THE POINT:
In an era of increasing automation, most companies are still relying on outdated methods to manage their budgets.  
The next post in this series is The Problem With Set It and Forget It Budgets.