How a Purchasing Card Almost Gave Me a Heart Attack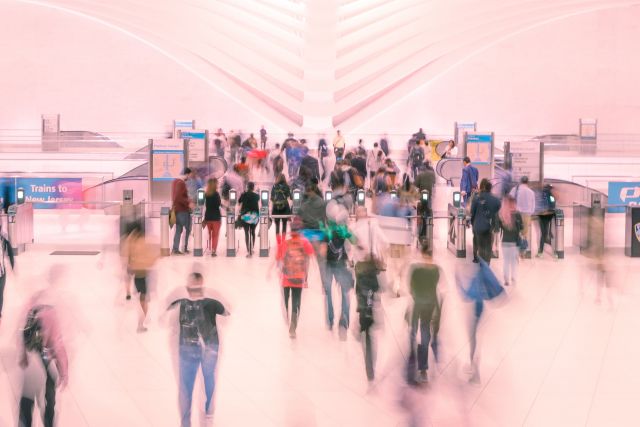 When you're on the ground for a big marketing event, a purchasing card with limited visibility and flexibility is useless. Center offers a better way.

The event was about to start, but we couldn't open our booth until we paid the setup crew. The bill was $50k more than we were expecting, and there was no room on our purchasing card. Where were we going to find another $50k in a matter of hours to save our event?
How a Typical P-Card Caused so Many Challenges
A few years ago, I was a marketing director for a large company. Our team's most important event of the year was coming up, and we were planning to spend over $100k on booth setup, copies of marketing collateral, a big customer dinner, and more.
Each person on my marketing team had a corporate card, but our limits were around $5,000 each, far short of what was needed to run the event. We worked with finance to get a purchasing card issued – internally we called them "event cards" or "p-cards."
Now, this p-card card came with a couple of great features for our event:
A larger credit limit. We would have enough to cover most, if not all expenses.
A physical card. We could use it both online and in person, which made it much easier to pay for the customer dinner by handing the server a card
Initially, it also appeared to simplify the process for the accounting team: the card was linked directly to, and pulled funds from, my budget. But in practice, managing this p-card was a nightmare.
First, there was no manager approval process for the p-card. Employees could buy anything they wanted, and there was no expense report or way for me or my General Manager to see and approve charges. Later I found out that one of my employees had put some personal airline change fees on the card – something I would not have approved and would have put a stop to had I been able to spot it earlier.
Not being able to see what had been spent proved to be a bigger issue. While I was at the event, I had no idea how much had been spent, on what, and how much open-to-buy there was. I had to call my finance counterpart, and they had to log into the finance system to see. Only settled charges were visible, so the data had a lag of several days and was useless for a 3-day conference.
This is where the near heart attack came from: We had several large ticket items on the card, and when we saw the bill from the booth setup crew, we thought we were significantly over our limit. It was hours before the expo hall would open, and we had to pay or we couldn't open our booth. Where were we going to find another $50k in a matter of hours?
We did a mad scramble. The only thing I could think of was splitting the charge into several chunks and forcing my employees to use their personal cards to pay (myself included).
It turns out that we had already paid for 80% of the bill with an interim charge on the p-card, so we had plenty of room to pay. But it was difficult to figure this out with no visibility. In the end, we were able to open our booth on time.
That wasn't the end of the issues, however. I couldn't reclassify or split expenses. For example, I wanted to split the customer dinner costs with another department, so I had to call finance, and after a long discussion, they agreed to do a manual adjustment. By this point, finance hated getting calls from me.
There is a Better Way
Purchasing cards don't have to give you a near-heart attack. Here's what you should look for when evaluating p-card options:
Real-time visibility: Managers and the finance team need to see spend as it happens to manage their budget, avoid overspend, and reduce waste. Real-time visibility allows the business to be more agile, adjust spending to meet current priorities, and make better decisions. For critical things like the biggest marketing event of the year, even 3-day-old data is useless.
Granular controls: You need an easy way to issue cards, change limits, add users, and lock cards that get lost. The last thing you want to do is wait on hold with the bank to do things that should be self-service.
Software-driven automation: P-cards are great…until you have to reconcile them and manually code charges and changes. Your card provider should automatically classify expenses and categorize them accurately. It should be easy to split expenses across multiple cost centers, jobs, or other custom fields that are important to you. These expenses should flow automatically to your GL.
No extra fees: Don't settle for a card provider that charges card fees, setup fees, or change fees. P-cards should be included at no charge.
When your p-card process works well, there are several ways you can use p-cards to improve the way your business functions:
Improve business continuity for recurring software charges and other procurement spend. For example, you shouldn't be putting critical cloud infrastructure costs on an individual's corporate card or personal card. What happens when that employee leaves the business or exceeds their limit? You can't afford to have critical business operations go dark due to a card issue.
Make it easy to issue and manage p-cards. When it's easy to manage cards, it reduces the burden to scale out your program. Consider issuing p-cards by department, by project, and/or by event.
Use real-time reporting to reduce waste. For example, spot duplicate charges and non-preferred vendors before it's too late. Identify users who continue to use personal cards and educate them on the better way.
Use card controls to reduce risk. Add and remove users as employees switch roles. Take advantage of features like restricting certain merchant codes from being used.
Center Makes Issuing P-Cards Simple and Scalable
At Center, our most successful customers are using p-cards to empower their employees:
Employees love how simple it is to use both individual corporate expense cards and p-cards. It's easy to process expenses via the Center mobile app. No more expense reports.
Finance teams love how Center solves the issues they used to have around p-cards. Accurate classification of charges via machine learning. Automatic reconciliation. Easy sync to the GL. One of our customers, the Controller at a 400-person tech company, said "Previously, when we used a p-card for our facilities and ops teams, I had to code 600 lines manually to NetSuite every month. Now it's quick and accurate."
Managers and budget owners love the real-time visibility and reporting that Center provides into p-cards and all employee spend. No more scramble to know if you'll hit your budget. No more near-heart attacks!
See for yourself how Center can improve your operations with a corporate card program that includes p-cards. Sign up to see a personalized demo.