When it comes to managing expenses, one of the biggest challenges for finance teams is how to empower employees to spend while ensuring that employee spend fits within company guidelines. In the past, this has forced companies to make a choice between ease of use and control. 
Organizations who optimize for ease of use often end up with little to no approval oversight on expenses. The argument here is that managers trust employees, and it's more important to empower the employee, even if that means the occasional wayward spend. And traditional expense management tools haven't made it easy to set up sophisticated approvals. The issue is that as a company scales, the volume of expenses scales with it, and expenses can quickly spiral out of control.
Organizations who optimize for control typically end up with burdensome expense approval processes that are tough to implement and even tougher to follow. These companies often end up paying too much for complex expense management software. These solutions can be expensive, but also surprisingly difficult to customize. As a result, any changes in approval policies can cost thousands of dollars in professional services fees and take weeks to execute.
We believe you should be able to have ease of use and control, and that these should be free. Software that adapts to your organization's unique way of managing expenses can and should be every finance team's reality. 
This is why I am excited to announce Center's latest product launch, with two new features that offer both the ease of use and control you need to solve even the most complex expense management problems.
Dynamic Approvals
Easily and flexibly manage any approval flow you can imagine.
Route any expense based on any property of the expense (e.g. Cost Center, Project #, Amount)

Route any expense to as many approvers as you need

Automatically approve expenses based on any property of the expense, for example, expenses under $25
For example, if your business manages spend based on projects, you can easily route expenses for a particular project to a specific approver. If your business requires your Controller to sign off any monthly software expenditures over $1,000, you can easily route the expense to the spender's manager first, and then to the Controller. If you choose to, you can reduce the volume of transactions requiring manager approval by automatically approving specific expense types or those below defined dollar amounts. We've made it extremely easy to create, prioritize, and manage these approval rules—if you've ever used custom filters to search for flights on Expedia or Kayak, you can manage approval rules in Center.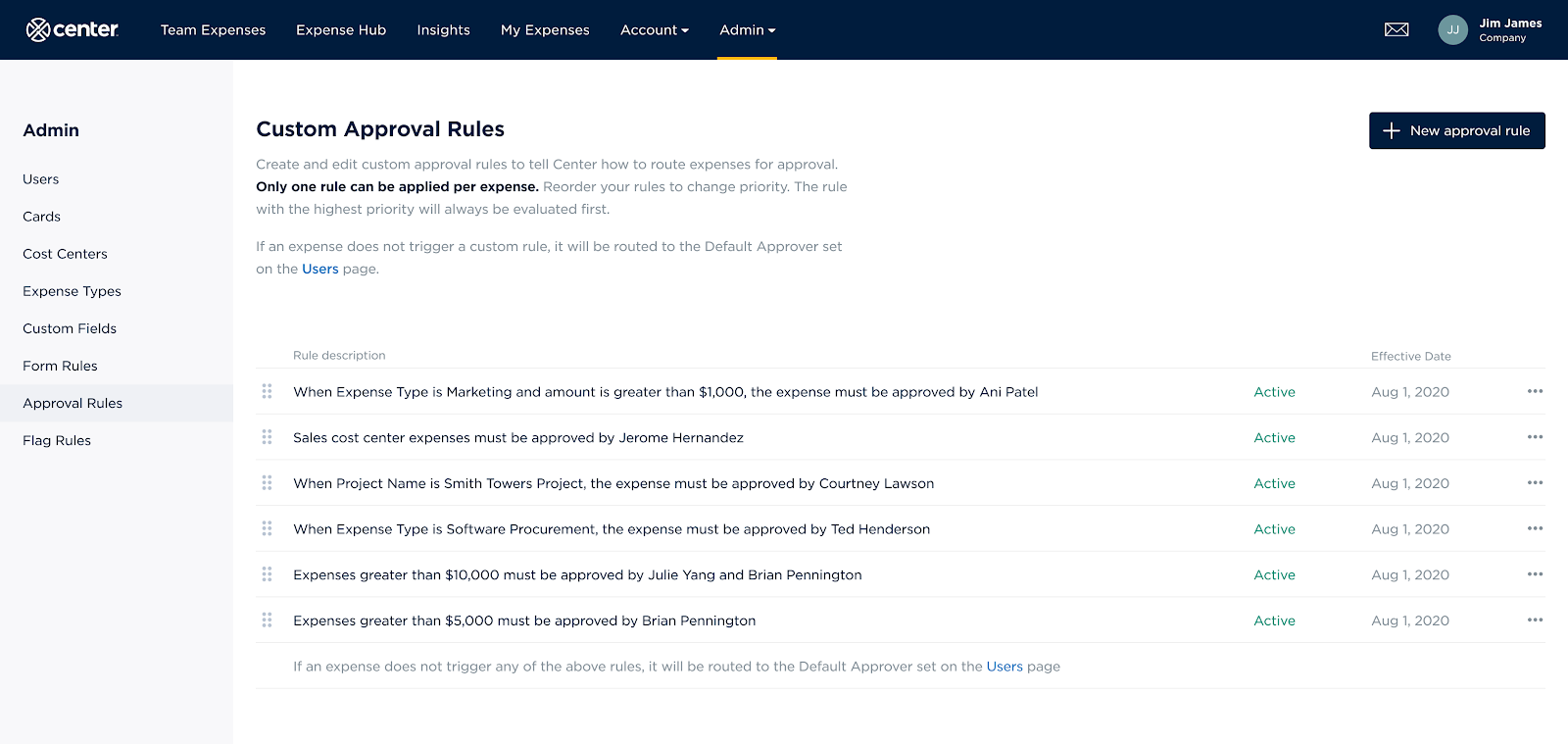 My Approvals
Easily review and approve departmental expenses.
See all expenses that need approval in one location, including those flagged as policy violations
Bulk approve expenses that clear Center's audit review

This new dashboard makes it easier than ever to approve expenses by highlighting out-of-policy expenses and allowing bulk approval of in-policy expenses. This allows approvers to focus only on the expenses that most need review.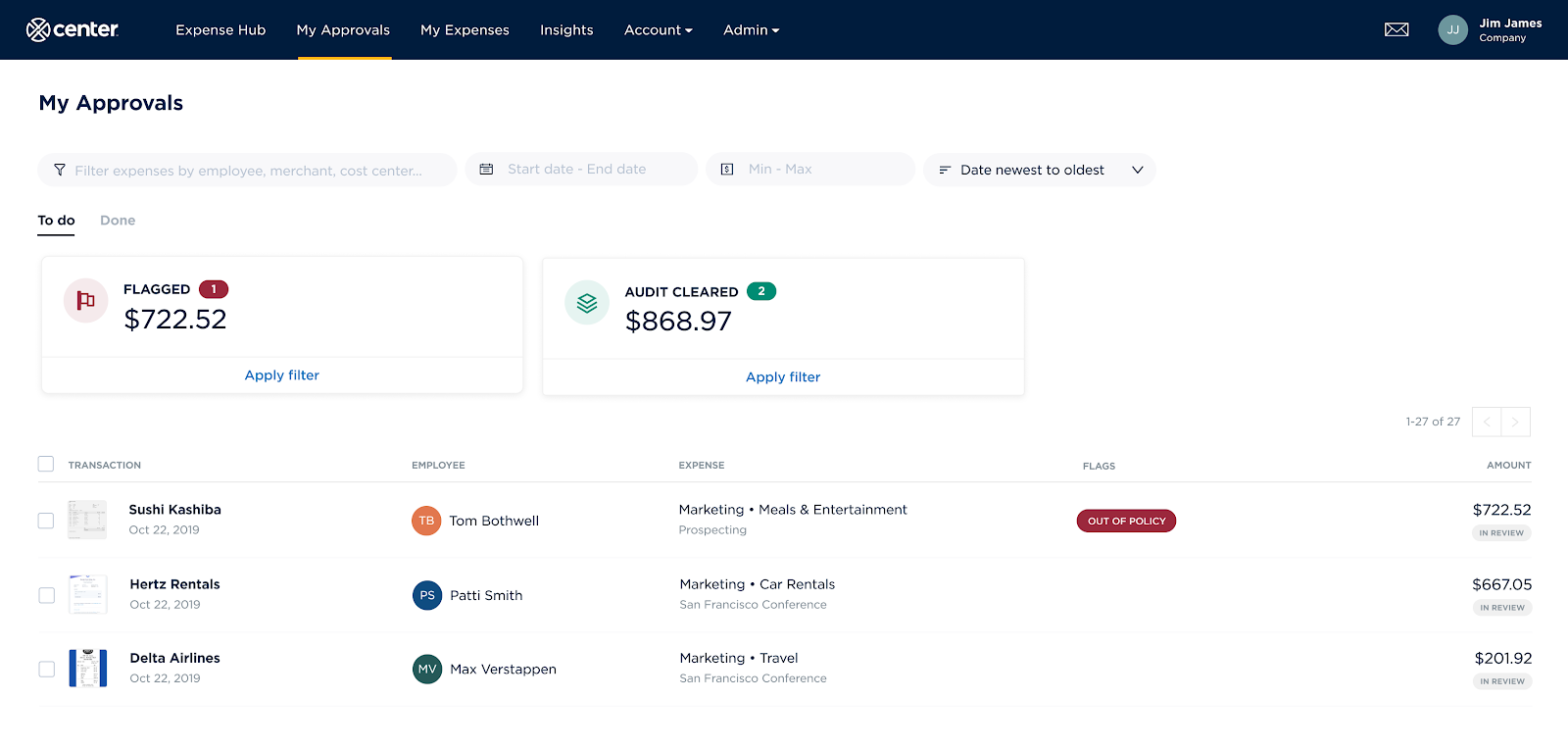 Center already helps businesses save time, eliminate errors, and automate manual tasks. With this release, Dynamic Approvals and My Approvals provide all the control you need in a simple user experience. The days of needing to choose between control and ease of use are over.
Nik Singh is Center's vice president of product management. He and his team are working on new ways to streamline, automate, and optimize the entire expense management process, from spending and expensing through closing the books and analyzing data. 

Want to see Center in action? Check out Center's on-demand demo or schedule an individual demo today!
 
Keep Me in the Loop