5 Ways Center Gives Professional Services Businesses an Edge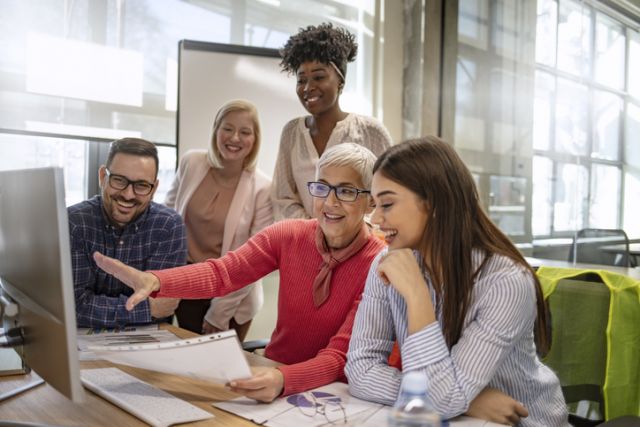 Law firms. Accounting firms. Consulting firms. Financial services firms. Advertising and marketing agencies. Architecture and design firms. Real estate practices. Banks. Insurance agencies. HR & staffing firms. For professional services businesses like these, success typically hinges on personalized service and long-term client relationships based on trust and expertise. And the companies that do best are adaptable, tapping into the power of new tools and tech and staying in tune with emerging trends.
The Center team recently analyzed the top trends affecting professional services businesses, and how Center can help them stay ahead and stand out. Here's what we're seeing.
1. Automation and AI as a competitive edge
Forward-looking professional services firms are harnessing the power of automation to minimize time spent on manual, repetitive tasks and shift team effort to more high-value work. As an added bonus, deeper data analysis can unlock valuable new insights and drive better processes and workflows.
Center uses intelligent automation to streamline processes and save teams significant time. Moving away from manual accounting tasks, eliminating a few steps from your month-end process, and containing costs are quick wins:
"Super simple setup, great customer service, and effortless expense management. We haven't found anything we dislike. Compared to our legacy solution of manual expense reimbursement, this is a game-changer. Having artificial intelligence working in the background to help sort our different expense types really helps cut down on a lot of extraneous administrative burden, too."
Collin G., Founder, Small Business
2. New tools and tech help attract and retain top talent
Expectations are changing in today's tech-enabled work culture, and employees are increasingly unwilling to tolerate clunky tools and outdated technology. Legacy tools and software can negatively affect team engagement and retention and keep you from competing successfully in the talent marketplace.
Travelers and finance teams alike love Center's user-friendly mobile app and web portal. And automating time-consuming manual tasks is a great way to guard against employee burnout and turnover while boosting productivity:
"The best thing about Center is the integrated app that notifies users when they use their card to make it easy to keep on top of submitting expenses. Easy, awesome support, intuitive product. Perfect for teams that are trying to find a better way to do expense reports."
Andrea B, Finance Manager, Small Business
3. The power of real-time
In a dynamic environment characterized by economic headwinds, timely data and insights are critical to contain costs, hit budgets, and identify opportunities to optimize and adjust course.
We've seen what's possible when forward-looking teams have the information they need and the tools to take action at just the right time. Center customers particularly value being able to pull accurate, up-to-date reports any time they need them, as well as real-time visibility into all expenses as they happen:
"A simpler, easier to use service than our current credit service. I really like having instant visibility to charges and approvals. There's no more waiting until the next month to reconcile charges or losing receipts. I enjoy the instant notifications to upload a receipt that reminds me to get a receipt."
John H., Project Manager, Mid-Market
4. Increasing globalization, virtual offices, and hybrid talent
Professional services businesses tend to have multiple office locations, or a meaningful percentage of distributed teams. With team members increasingly working from anywhere and new models for hybrid work and flexible staffing, collaborative tools that are easy and intuitive to use are critical.
CenterCards are free and easy to use and administer for any team members incurring business expenses, including contractors and freelancers. Center's self-service portal gets distributed teams up to speed quickly, and integrated workflows and notifications keep teams on the same page about budgets. In addition, Center's built-in policy rules and cost codes are easy to customize so firms can track expenses by location and project:
"I can use the portal or the app to upload and review receipts. They customized an export for us to seamlessly record our expenses in our accounting software. Both the app and the portal are very user-friendly. I like the flexibility of being able to mail cards directly to off-site employees."
Administrator in Accounting, Mid-Market
"The app allows easy approver access and remote functionality! Searching for transactions is so easy and has various search options. I also love the Insights feature. It allows me to see the breakdown of expenses by expense type, cost center, individual, etc. So many options!"
Kayla S., Mid-Market 
5. The shift from time-driven to value-driven revenue models
We're seeing more and more professional services firms embrace new revenue models based on overall gains such as savings and ROI versus simply charging an hourly rate for services. And with the increased emphasis on value, clear insights into expenses are a must.
At Center, we're proud of the exceptional value we deliver to our customers as a result of our unique business model, which eliminates card and software fees for good. There's zero upfront investment—no deployment costs, integration fees, or ongoing card or licensing fees:
"Other subscription services have a monthly charge for all users regardless of activity. With CenterCard the overhead is already built into the spend. Once travel kicked in again we saw a negligible expense report volume increase geometrically. CenterCard has really helped control the volume of manual work to handle the increase."
David P., CFO, Small Business
"We no longer have annual card fees, replace card fees, and fees to use an expense management tool. Our employees are no longer having to spend 1-2 hours every month to submit expenses. Furthermore, our finance department is no longer having to spend 5+ hours every month tracking down and coding expenses."
Kelsey C., Accountant, Mid-Market
Ready to learn more?
You deserve a modern expense management solution that can be configured to your unique requirements, just as you tailor your services to your clients. We partner closely with you to ensure a smooth and seamless rollout while keeping your time investment to a minimum, with no out-of-pocket costs.
Read more about Center's best-in-class customer rating and recent accolades for usability and user satisfaction on G2. And if you'd like to find out more about how modern spend management tools can empower your team to do more, schedule a personalized demo today.