How To Get Real-Time Reporting and Insights in Center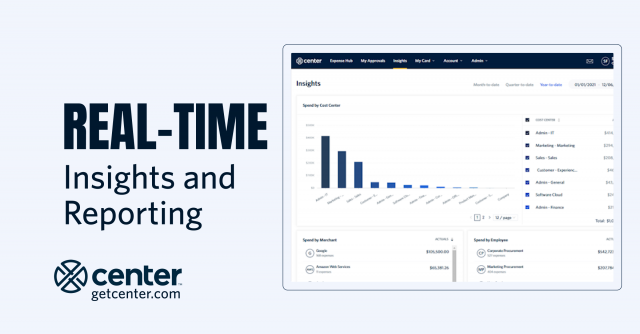 Center delivers real-time reporting and insights so you can see exactly what employees are spending money on. Here's how.

It's important to know where your company stands on expenses. Business unit leaders need this information to hit their monthly budget targets, and finance and accounting need it to keep a close eye on cash flow. Unfortunately, this data is often hard to access in a timely manner, and most organizations only know where they stand once the books are closed on the month.
Your expense management software should be a helpful resource—after all, that's where most of your variable spend is captured and documented. But the reality is that expense information in traditional legacy software is hard to access, and more importantly, is usually out of date.
The problem is that most expense management software relies on credit card feeds to pull in transactions after they post, which can be days or weeks after they occurred. Once they post, they still lack classification until expense reports are filed, typically after the end of the month.
The result is that neither the finance team nor business leaders know where they stand on expenses until it's too late to course-correct.
Fortunately, there's a better way. Center delivers real-time reporting and insights so you can see exactly what employees are spending money on. Here are four ways Center brings real-time reporting and insights to life.
Getting visibility into unposted and unsubmitted expenses
When you log into your personal credit card account, you see two groups of transactions: pending and posted. Pending transactions are authorizations to take money from your account but have not yet completed. While your available balance declines, the settlement hasn't taken place. Generally, transactions will post within five days, but it can be longer when there's a pre-authorization that needs to be settled, such as a rental car reservation or hotel stay.
The same process applies to business and corporate cards. When you use the credit card feed to populate expense reports, you only get posted transactions, not pending. The result is that it can be five days or more before transactions show up in your expense management software from your corporate credit card.
Even when the transactions finally come through, the finance team doesn't have context for the purchases. This information comes via the employee expense report, normally filed a month or more later, which means it could be 5 to 6 weeks before a transaction is accounted for.
Center takes a different approach that doesn't rely on credit card feeds. CenterCard®, which is part of the Mastercard® network, integrates directly into Center® Expense, so all transactions are immediately visible both to employees and the finance team. Accounting sees every dollar as it's spent in the Expense Hub, which gives them better control over cash flow and helps them decide when it's ok to spend vs. pump the brakes.
Center Expense automatically classifies each transaction to the correct expense type and cost center, and employees can add details like project number, client, or other custom fields from their mobile device right at the point of purchase. No waiting around for a monthly expense report.
The result is that both the finance team and business unit leaders have insights into how employees are spending money throughout the month—as well as the information they need to stay on budget.
Searching for transactions
One problem with legacy expense management software is that it bundles a bunch of transactions into employee expense reports, which can hinder detailed spend analysis. When the accounting team looks for information on a particular transaction, they must dig through expense reports to find it. This means knowing which employee made the purchase, finding the right expense report, and then locating the right line item.
Center Expense solves this problem with universal search. Administrators can search any expense field, by dates and amount directly from the Expense Hub to find the transaction they are looking for.
For example, if you are looking for a particular FedEx transaction, you can search "FedEx" in the merchant field using the universal search bar, and all the recent FedEx transactions appear, including pending transactions. All custom fields are available using universal search, making it easy to find the transaction you're looking for even if you don't know the vendor or amount. The screenshot below shows a search "Gemini" in the custom "Job" field to see all the expenses related to that project.
Searching by transaction is especially useful during audit season. The reporting features in Center Expense can save hours when the auditor is looking for documentation on expenses, receipts, and approval workflows.
Getting insights into spend
One of Center's guiding principles is to help finance and accounting professionals become better business partners. And we designed Center Insights to enable the finance team to deliver significant value to the business.
Center Insights delivers real-time reporting on how the organization is spending. Simply choose your time frame, roll up your sleeves, and dig into the data across all the major categories, including cost centers, merchants, employees, expense types, and custom fields.
Center Insights is interactive, making it easy to see the top-line and drill into details. For example, if you're meeting with the leader of the sales team, you can click into their department's spending and see the relevant details, including top expenses, spenders, and merchants.
You can use Center software to deliver insights to business partners, such as identifying areas for merchant consolidation, detecting potential waste and abuse, and finding opportunities to coach employees on spending habits.
Budget managers also have access to Center Insights for their own departments, giving them the ability to track and analyze spend proactively. Accessing this data themselves empowers budget managers to be accountable for their spending and removes the finance team as the "middle-man."
Integrating to your ERP
While it's important to review accurate, up-to-date reporting on expenses in your expense software, ultimately, your financial system is your official source of truth. It's crucial to get the data from your expense management system into your ERP quickly and accurately.
The problem is that this connection often breaks down, resulting in manual work porting the data over or resolving missing or duplicate transactions.
Center offers two ways to get your expense data into your accounting system for analysis:
The first is pre-built connectors, which automate the import and export of data. Center offers pre-built connectors for many of the top financial systems, including QuickBooks Online, Sage Intacct, and NetSuite. Simply click "Export," choose your date range, and Center Expense automatically updates your financial system with the correct entries.
The second option is to create a CSV export of your expense transactions. You can customize the layout of your CSV export within Center Expense, including any custom fields, so you don't need to manipulate the file manually in Excel. Then, simply upload the file into your ERP to post the transactions.
You can also choose to update your financial system as often as you like. While many organizations still prefer a monthly process, Center enables you to reconcile expense transactions throughout the month and get ahead of the month-end close. If you have billable transactions, you can choose to bring those over to your financial system to speed up customer billings. Center customer DualTemp Clauger accelerated their customer billings by 5-6 weeks by moving to a weekly export.
Ready to see real-time reporting and insights for expense management in action? Sign up for a personalized demo today.