Close the Books Faster Than Ever With the Center QuickBooks Online Connector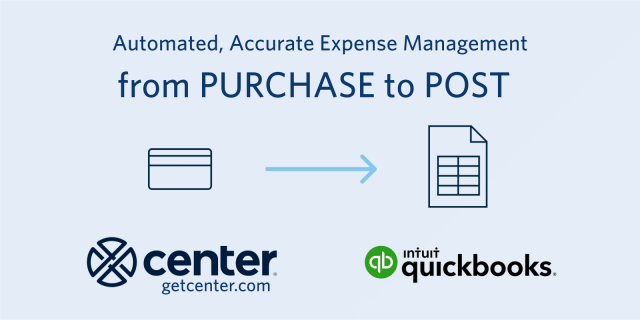 Center already helps teams save time and eliminate errors. The Center QuickBooks Online Connector makes expense tracking and monthly close even faster.

Center already helps businesses save time, eliminate errors, and automate manual tasks. Our integration with QuickBooks Online—the leading financial software for small and medium-sized businesses—makes expense tracking and the monthly close even faster and easier.
Closing the books each month is a critical task for finance teams, who need to deliver accurate financial reporting to their executives. Unfortunately, that process gets slowed down when finance teams have to chase down missing information, manually review and correct mis-coded expenses, and create accruals, all of which happen even when organizations use legacy expense management software.
With Center and the QuickBooks Online Connector, organizations can track expenses seamlessly using their existing accounting codes, from the time of purchase, through review and audit, to posting to QuickBooks Online. With immediate visibility into spend, decreased manual corrections and coding, and fewer accruals, finance teams can close the books faster than ever.
An added bonus: The QuickBooks Online Connector also makes it faster and easier to set upg Center Expense, without expensive consultants or lengthy deployments.
Effortless Onboarding
With the QuickBooks Online Connector, onboarding takes just minutes, and you can set everything up exactly how you like it. Center automatically finds and imports your expense accounts, departments, and custom fields, without manual data entry or spreadsheet hacks. And if you make changes to your accounts, classes, or custom fields in QuickBooks, it's easy to keep Center up to date by pressing "Sync."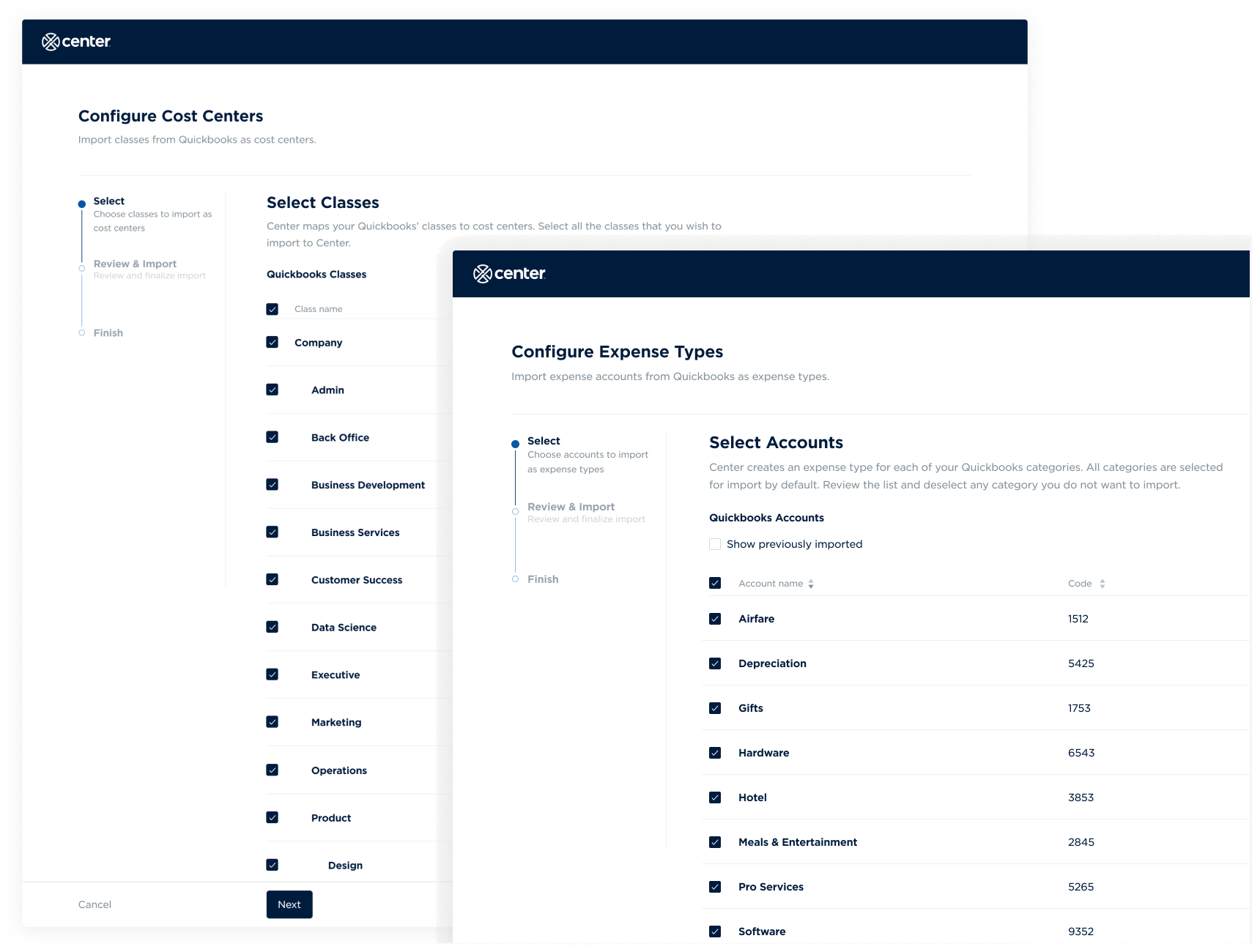 The QuickBooks Online Connector automatically brings your existing accounting codes into Center Expense: you're up and running in minutes, tracking expenses your way. 
Faster Month-End Close
The QuickBooks Online Connector helps speed the monthly close by automatically exporting expense data with a quick click. Instead of manually formatting and uploading data, which can lead to errors, you can easily transfer data in any format you need (journal entries, vendor bills, QuickBooks expenses). Your data effortlessly syncs to the GL—no wrangling or manual re-coding needed. See for yourself how easy it is in this video.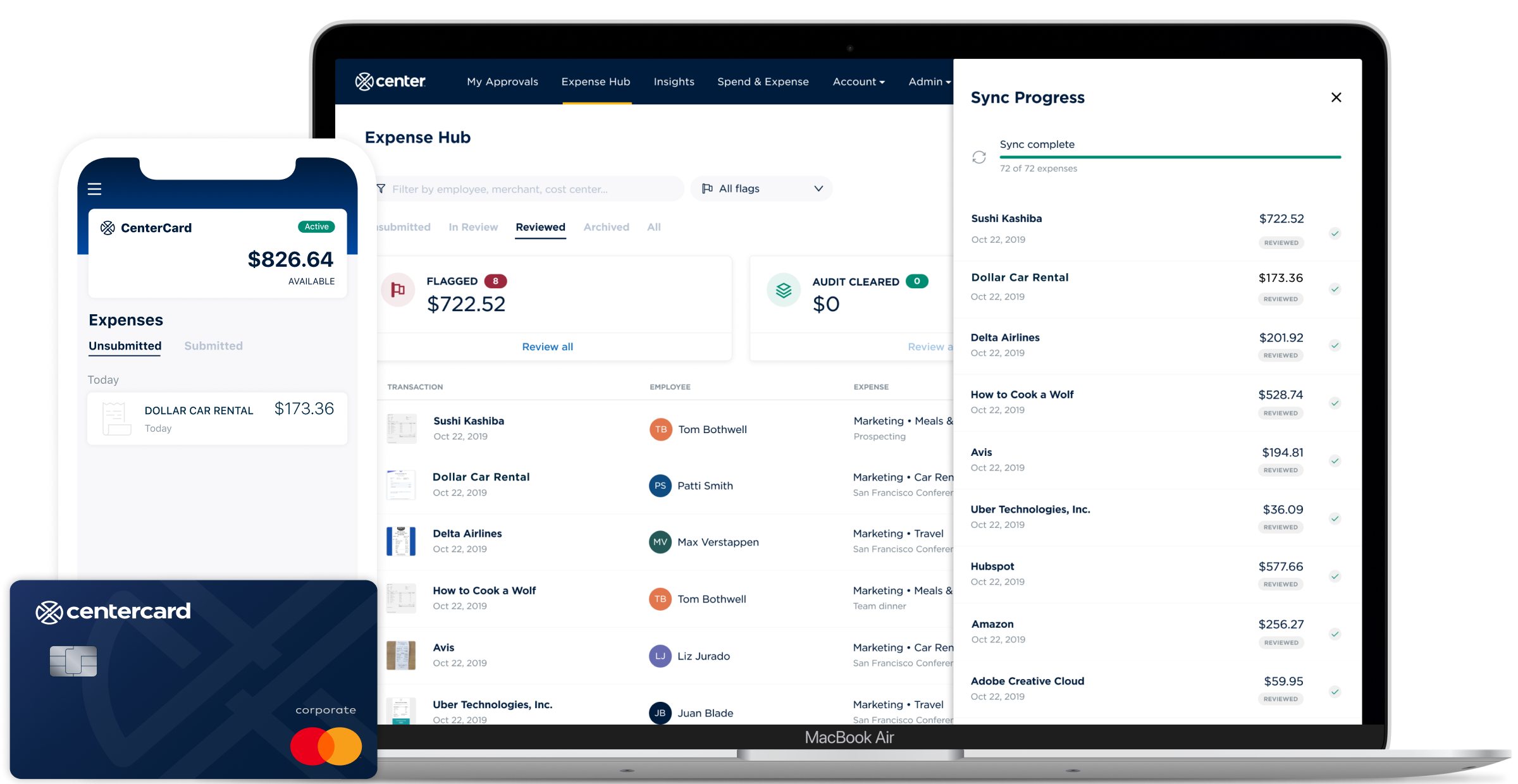 Center's QuickBooks Online Connector gives you real-time visibility into expenses from purchase through posting to the GL.
More Visibility and Control, Start to Finish
Throughout the accounting cycle, Center and the QuickBooks Online Connector provide real-time visibility into expenses, allowing you to see spend as it happens, from purchase to posting to the GL. This fast, seamless reporting helps your team make more informed decisions using up-to-the-minute expense information.

Read more about how this integration works or contact our team to set up a demo.
Nik Singh is Center's vice president of product management. He and his team are working on new ways to streamline, automate, and optimize the entire expense management process, from spending and expensing through closing the books and analyzing data.