Make Expenses Easier for Employees and Accounting with Mapping Fields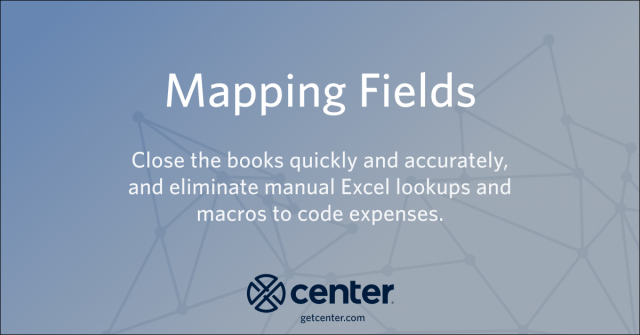 Make expensing as easy as possible—for employees and accounting teams—with Center's Mapping Fields functionality.

The Problem
Expense management software often forces finance teams into a "tyranny of the OR" situation, requiring them to choose the lesser of two evils: optimizing for the best employee experience, OR optimizing for the best experience for the accounting team.
A typical scenario where this issue pops up involves capturing important expense data, like project, location, and client, which can get complicated because many organizations have hundreds of projects going on. Employees will usually recognize a project like "Jamesville Building Project," but your ERP system typically associates that project with some sort of code like "1533."
Organizations that optimize for the employee experience use familiar names in expense report forms to make it easier for employees to track their spending. The accounting team then has to "translate" those names into the account codes in their ERP using lookup spreadsheets and macros, which takes time and introduces errors.
Other organizations use ERP codes to track projects, asking employees to keep track of project codes when filling out expense reports. This is easier on accounting, but harder on employees. It adds another obstacle to accurate, timely expense reports.
The dilemma organizations face is clear: Do you force your employees to memorize the project codes so finance can easily export financial data compatible with your GL? Or do you allow your employees to select a friendly name, but then force accounting to use manual work-arounds to exporting expenses to the ERP? Do you create an easier employee expense reporting process, or do you optimize for accounting efficiency?
The Solution
With Center, you can have the best of both worlds. Mapping Fields  allows you to display familiar names for projects, locations, clients, and any other custom field to spenders, while giving you control over how those names map to your GL accounting codes.
Employees will always see the familiar name when submitting expenses, keeping the expense process simple and free of errors.
Employees submitting expenses on the Center mobile app will see familiar fields like "Project Name," for example, instead of project codes or numbers. 
Accounting teams will be able to match the familiar names to official accounting codes automatically. Say goodbye to Excel lookup tables and macros. The data flows accurately into your ERP, streamlining accounting, accelerating month-end close, and reducing the chance of manual errors.
Mapping fields lets finance administrators quickly associate the Project Name used by employees in Center Expense with the Project Code in their accounting software, eliminating the need to manipulate the data as an intermediary step.
Center also makes it easy to maintain your mappings. With our built-in bulk upload, you can instantly update all of your mappings any time you wish. No need to add mapping rules one-by-one; you can add thousands of list items and mapping rules at once so your expense system always matches your financial system.
Our goal is to eliminate the need to manipulate data outside of Center Expense. Whether you're using our Integrations Platform or a CSV to update your ERP, your expenses are always reflected in your financial system without the Excel macro headaches.
For a detailed look at these features in action, check out our Mapping Fields video.
Nik Singh is Center's vice president of product management. He and his team are working on new ways to streamline, automate, and optimize the entire expense management process, from spending and expensing through closing the books and analyzing data.