It's Time to Update Your Business Travel Expense Policy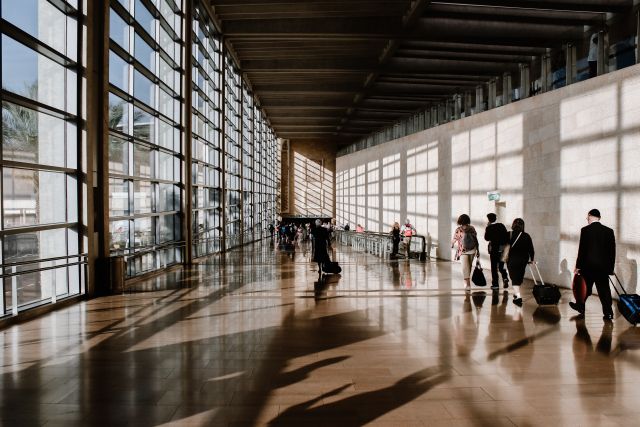 Business travel has changed a lot since Covid. One thing that hasn't changed for many? The expense report. Fortunately, Center has a better option.

Giving employees clear written guidelines, including all important details, on travel helps keep business travel expenses under control and drives accountability throughout the organization. Corporate travel is typically the biggest employee expense, so it's not surprising that 75% of organizations across all company sizes have some kind of written business travel expense policy. But the world has changed since COVID-19, and it's the perfect time to update or create your corporate expense policy with clear guidance and expectations for business travel based on the new realities.
Here are some topics and questions to consider as you update.
In-person vs. virtual
Who makes the decision about whether in-person travel is necessary?
Who approves a travel request?
If you're hosting a virtual event, what expenses will be covered (software, food delivery, swag, entertainment, etc.)?
Roles and departments
Do you need any special guidelines for executives, managers, more junior employees?
How about for different departments, like sales or marketing?
Booking travel
Can employees book their own travel, or are they required to book through an internal agency or tool?
Which websites, tools, or apps are permitted (or not)?
How far in advance should bookings be made?
Accommodations
Which types of accommodations are acceptable? Hotels, motels, Airbnb?
Do you want to specify preferred vendors or acceptable price ranges?
Which incidental expenses, such as mini-bar items or room service, are allowed?
Transportation
Be sure to consider air travel, rail travel, ride services, and personal car use.
Do you want to specify preferred vendors, class preferences, or acceptable price ranges?
Is the lowest non-stop trip acceptable, or the lowest cost including stops?
Is business class allowed in certain cases, such as overnight or international flights?
Can the use of airport lounges or in-flight WiFi be reimbursed?
When should rail or car be used instead of air travel?
If an employee is renting a car, should they purchase supplemental insurance, and will that be reimbursed?
If a personal car is used, what is the reimbursement rate per mile?
Is parking reimbursed? How about tolls or parking tickets?
Meals
What is the per meal or per day allowance for restaurant meals, groceries, vending machine snacks?
How do you track attendees, including business guests and government officials?
Who pays for a group dinner?
Are there any special rules or exclusions?
Sustainability
Will the company cover carbon offsets for air travel?
If a direct flight costs more than a flight with more than one leg, can it be booked because it's more carbon-efficient?
Adding personal time to a trip
Can the employee extend a trip for personal reasons? What are the rules for flights, hotels, and other costs? (You may be tempted to omit this information, but make sure to include it because it will definitely come up.)
What if an employee's spouse or domestic partner comes along?
COVID-19 concerns and travel emergencies
Do you have duty-of-care policies in place to protect the safety and well-being of travelers?
Will you reimburse COVID-19 testing, pre- and post-travel?
Can a more expensive ticket be purchased if it can be easily changed or canceled?
Can supplemental travel insurance be reimbursed?
Where can employees find resources and help during a travel emergency?
Other tips
The shorter your policy is, the more likely it is that employees will read, understand, and follow it. Aim for 1-2 pages, and include clear headings and bullet points where applicable.
Be sure to review and update your travel policy with key stakeholders regularly—put a recurring review on the calendar every 6 months.
Select an expense management solution that can be customized to your policy. That way, no one has to read your travel policy to follow the rules.
Is your company investing in more corporate travel since coming out of the height of the pandemic? Ready to see real-time reporting and insights for business travel expense management in action? Watch our on-demand demo or sign up for a personalized demo today.
Photo Credit: Briana Tozour