Advice from CEOs on Navigating an Economic Downturn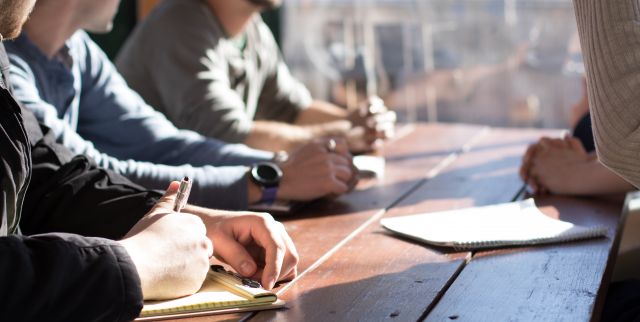 Our team's top takeaways from Seattle CEOs on navigating an economic downturn, with insights from Steve Singh, Glenn Kelman, Bill Richter, and Robert Wahbe.

As the global Covid-19 crisis escalated this week, we tuned in to hear Center's co-founder and executive chair Steve Singh (currently managing director for Madrona Venture Group) discussing "How to Manage Through a Downturn" with Seattle CEOs Glenn Kelman of Redfin. Bill Richter of Qumulo, and Robert Wahbe of HighSpot.
All of these business leaders have weathered past crises with their teams, and their experience demonstrates that companies who act swiftly and strategically can come out of this crisis stronger. As Steve puts it, "The best get better in difficult times."
Here's what most resonated with our team from the discussion. (Quotes lightly edited for clarity and context.)
Bill Richter, on moving through cycles quickly:
"I've been an executive through the last couple downturns, and you really learn a lot during these cycles. You have to move quickly. Going through these cycles slowly is not helpful."
Glenn Kelman, on taking swift action vs. saving face:
"I've been surprised how slow some people are to depart from the narrative of 'we're killing it.' They're actually worried about what people will think, instead of just deciding what they can afford, and doing it as fast as possible."
Steve Singh, on real-time response:
"The data and elements we had in the past were no longer valid. You have to start measuring things on a daily basis, and learning how to react to things much more real time."
Robert Wahbe, on surviving vs. thriving:
"Building a company to survive is not the same thing as building a company to thrive. Our job is to navigate the downturn, but invest for the upturn."
Bill Richter, on seizing opportunity:
"Big doesn't beat small but fast beats slow. The faster we can move, the more value we can deliver to customers. It's a good time to pull back and think about the segments of your business that might be impacted less or more—every company's different. What are the opportunities, and how nimble and agile can we be to go seize them? How much faster can we do that than our competitors?"
Glenn Kelman, on cyclical ups and downs:
"Everyone at Redfin knows that we're in a cyclical business, that there will be ups and downs, and that we're going to react very quickly to that."
Robert Wahbe, on getting more granular without getting stuck:
"We're getting much more fine-grained in many of our big areas of investment, whether it's marketing programs or product capabilities. We're keeping the north star in mind, where we need to get and the resources it takes, but we're breaking everything down into more incremental steps we could take to make progress. The one thing I would caution is…you don't want to do this too much, because then you just sit there and analyze until the cows come home, and you don't actually execute."
Bill Richter, on the fragility of data:
"Run a data-driven business, but remember that right now in the cycle, your data is going to lie. And that's something that we're not accustomed to hearing. We love data. We're a data company. But you're looking at old models and old trends, and you have to figure out how those apply to this environment. Your historical data models are going to be far more fragile now than ever."
Steve Singh, on distancing yourself from the competition:
"We realized (at Concur) that an economic downturn is an opportunity to actually distance yourself from the competition; to actually strengthen your business. And so while we slowed the rate of incremental investment in every area of the business, we actually increased it in product development to distance ourselves from those who didn't have the balance sheet or the operations, leverage, and discipline to compete with us."
Glenn Kelman, on team communication:
"Try to have employees hold two thoughts in their head at the same time. One is about the fundamental long-term strength in the business. And the second is the short-term apocalypse you're facing now."
Bill Richter, on creating optionality:
"I'm asking people to think around corners more than we ever have before, and to do smaller things much more quickly and learn fast. It's through fast changes like these that we create more optionality, in terms of how we run and resource the business. And in these environments, cash equals optionality."
Listen in or read the full transcript here.
Read the first post in our series on Navigating Through Uncertainty: Four Ways to Protect Your Company's (Financial) Health.
HOW CENTER CAN HELP
During an economic downturn, you need to do more with less. You will see an immediate impact on your bottom line with Center's integrated card and expense software. Center uses real-time data to help companies like yours control spend, monitor expenses, and save thousands of dollars, with none of the recurring monthly costs or add-on support fees of traditional expense software. Click here to find out how.