Why Forward-Looking Teams Choose Center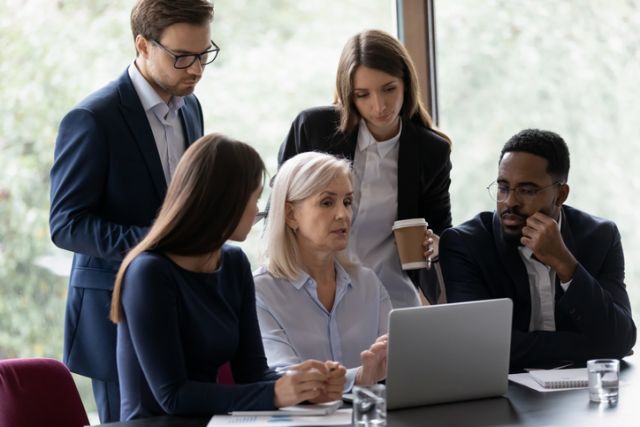 At Center, we believe spend management should empower teams to do more and go further, not hold you back. We've experienced first-hand how smart corporate spending can fast-track strategic growth and success. And we've seen what's possible when forward-looking teams have the information they need at just the right time and the tools to take action.
This is why we created Center—a complete corporate card and real-time expense management solution, delivered through a modern app experience that teams use and love. And when we hear exactly what our customers love about Center, we know we're on the right track. From ease of use to measurable business impact, these six themes consistently rise to the top.
1. Easy to learn and use
At Center, we work closely with you to ensure a smooth and seamless rollout while keeping your time investment to a minimum. We get your teams up and running quickly with user-friendly training and tools tailored to each role, and our dedicated user experience team is passionate about designing the best possible experience for users. Here's what Center users have to say:
"Everyone has commented how easy it is to submit their expenses now!"
Colleen M., Project Manager, Mid-Market
"Center is intuitive, fast, and efficient. I like the ease of use and ability to quickly reconcile. End users and the accounting team both love this platform."
Alex K., Controller, Mid-Market
"The app and desktop version are easy to use and the flow is the same on both. The submission and approval processes are intuitive. Attaching receipts and selecting required fields take seconds and you're done."
Administrator, Printing, Mid-Market
"The user experience is aesthetically pleasing, user-friendly and not complicated to navigate, which I appreciate. As soon as I use my Center Card, I receive a notification to fill out the necessary information to submit it. I love that I can easily submit an expense within seconds!"
Card User, Non-profit Organization Management, Mid-Market
"I love how easy it is to interact with the Center app, how I can easily look up submitting expenses, how I get notifications to add receipts right as the transaction happens, and how easy it is to approve other expenses. It's the best app I've used for business expenses."
Andrew P., Fellowship Fayetteville Celebrate Recovery Ministry Leader
2. Flexibility and customizability
Every business is different, and we configure Center to your exact requirements including custom policy rules, job and project codes, and approval flows—all at no cost to you. Here's what our customers have to say:
"A huge benefit is the ability to customize in a way that fits your company in a simple and intuitive way."
Karen A., Manager of Finance, Small Business
"Center is a great tool that grows with you. I love that Center is so flexible and customizable. Center is willing to grow with us as a company, where the platform we were previously using was not able to accommodate our needs."
Colleen M., Project Manager, Mid-Market
"I like how quickly the notification of transactions is logged, how easily customizable the cost codes are for our business, and the ability to see all of my employees' transactions in real-time."
Delaney C., Project Coordinator, Mid-Market
"I can use the portal or the app to upload and review receipts—both are very user-friendly. They customized an export for us to seamlessly record our expenses in our accounting software."
Administrator in Accounting, Mid-Market
"The admin platform is customizable and easy to make changes and [accommodate] department-specific requirements."
Joshua M, CFO, Mid-Market
3. Excellence at streamlining time-consuming processes
Center's intelligent technology automates workflows and processes to help teams unlock new levels of productivity and excellence. Here's how Center saves businesses of all sizes time and effort:
"The month-end reconciliation process is extremely easy…and gives us hours back during our month-end close process."
Administrator in Printing, Mid-Market
"We have multiple dept/programs, a 24/7 employee base, four different types of employees, and LOTS of plates spinning. Center has helped us streamline the receipt process, allowing us to move closer to a paperless environment."
Patti T., Director of Accounting, Mid-Market
"Center is a great help with streamlining. No more paper receipts! We just had our audit and it was so simple! No more reconciling."
Administrator in Museums and Institutions, Mid-Market
"We switched to Center from Expensify and are very happy with the change. It is seamless in matching charges to the software, especially foreign charges with transaction fees. So much easier than the manual process of reconciling credit card statements with Expensify."
Craig M., CEO, Small Business
"We can record expenses in our system faster since we receive information for the credit card charges much faster. The ability to export transaction data from the website to Excel gives us the ability to record the credit card charges as a journal entry rather than as multiple transactions in our ERP system, greatly increasing efficiency and allowing us to close monthly in a more timely manner."
Drew S. Staff Accountant, Small Business
"Center is the best business credit card. Real-time receipts mean less time spent managing paper receipts and matching to credit card statements. Expenses are automatically posted to Quickbooks, no data entry needed…The cards are an amazing time saver and staff absolutely love them."
Tracie B., CFO, Small Business
4. Instant visibility
It's difficult to run your business well when you don't know who's spending what. Here's how real-time visibility empowers Center customers to do more:
"I always wondered why banks can't do transactions in real-time. I don't know what the issue is with banking infrastructure, but Center is working to change this. I LOVE how fast I can see the transactions coming through for categorization."
Than A., Business Operation Manager, Enterprise
"We had extensive issues with cards and sites not linking. Center took this issue completely away with the integrated cards and expenses show up within seconds."
Administrator, Printing, Mid-Market
"I like that expenses appear in the credit card portal right away, there is no waiting period. It makes it easy to review and submit expenses right away."
Irina S., Finance & Special Events Coordinator, Small Business
"Center is an amazing, efficient, easy to use credit card management program. The ability to click one button and send reminders for all delinquent expenses is beneficial. I also like seeing our employees' expenses in real time, as the card is run, so we can better track what employees are spending."
Administrator, Oil and Energy, Mid-Market
"You will not regret switching to Center. Center removes the delay in reporting credit card transactions into the ERP system because employees don't file their expense reports. It gives you the ability to have insight into transactions right away, and the ability for employees to see their limits right in front of them."
Karen A., Manager of Finance, Small Business
5. Business impact
Our unique business model eliminates card and software fees for good, in addition to helping companies improve their cash flow and bottom line. Here's how Center is adding immediate value to our customers:
"Center is super easy to use, fast, saves thousands in time. The result has been a huge load off management, huge time saving. I calculated our savings will be 4-6 hours per employee per month. $200,000 plus in utilization savings."
Joshua M, CFO, Mid-Market
"Center is great for the team in the field to enter expense information as they make the purchases. We use Procore as a project management software and can upload expenses for each project. Our project managers like that they can enter project information for expenses on the spot and don't have to keep track of it until it's submitted. This helps our cash flow by making sure we are invoicing for these expenses each month."
Linda L., Director of Finance, Small Business
"We avoided paying monthly fees on our company credit cards and improved the turn-around time for submitting and approving expenses."
Irina S., Finance & Special Events Coordinator, Small Business
"The benefits are quite amazing. For our small nonprofit the switch to Center has saved me countless hours per month in reconciliation."
Craig M., CEO, Small Business
6. Amazing customer service
Our deployment process is designed to build confidence and ensure success, at your pace. Need additional help at any point? We're with you every step of the way. See what Center customers have to say:
"The customer service side of Center is one of the best that I have experienced. Every time we have an issue or question, they are always fast and efficient when responding."
Ben A., Staff Accountant, Enterprise
"I appreciate how helpful and quick our customer representative is with any questions that we might have."
Administration in Religious institutions
"Center is A+++. It's easy to use. Easy to train new employees on. And perhaps the most important, customer service is fantastic."
Melissa B., US Controller, Small Business
"I really appreciate having a live and responsive support team, versus a chat with a bot."
Colleen M., Project Manager, Mid-Market
Read more about Center's best-in-class customer rating and recent accolades for usability and user satisfaction on G2. And if you'd like to find out more about how modern spend management tools can empower your team to do more, schedule a personalized demo today.