CenterCard for Procurement Spend
Achieve full visibility into tough-to-track expenses and dramatically decrease time spent on procurement card reconciliation.
With Center, there's no rush to close a statement at the end of the month. It's more like a stream flowing."
CFO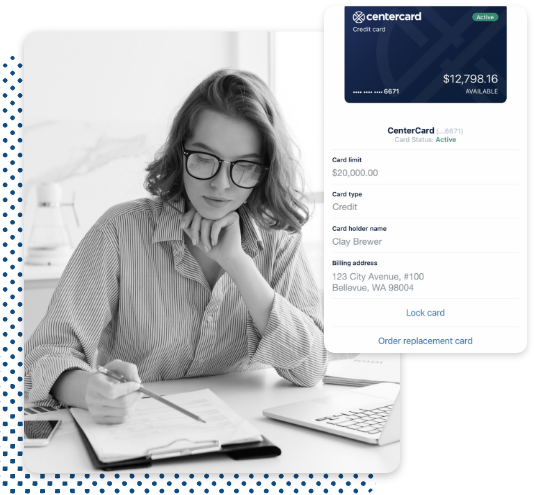 Procurement Made Simple
With the decentralization of purchase decisions on the rise, you need a better way to monitor, track, and reconcile departmental expenses.
Center lets you issue as many cards as you need, including P-cards, and track spend by department, project, client, location, or your distinct business criteria. Set card-specific limits based on spend category and lock or order replacement cards with a click. Configurable approval rules ensure that centralized spending stays within budget and complies with existing policies.
Make Better Decisions With Real-Time Visibility
Credit cards are fast and convenient, and most invoices are payable this way. With Center, see real-time spend and stop worrying about physical receipts, storing invoices, or manual processing.
Purchases are covered by fraud protection, and Center Expense flags any out-of-policy expenses. Use the insights dashboard to review and drill down on P-card purchases, uncover trends, identify savings, and access procurement data to inform budgeting and vendor negotiations.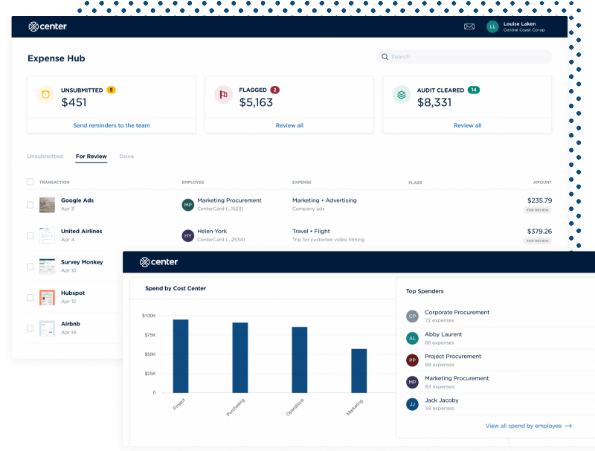 With Center, there's no rush to close a statement at the end of the month. It's more like a stream flowing."
CFO
Alternate version of circle callout that does not contain quote graphic.
Flexible Corporate Card Program
Empower employee purchasing with CenterCard Mastercard—issue P-cards by department or project while efficiently managing card limits and security.
Capture Expense Details Immediately
No more tracking down missing information. Center mobile app lets spenders snap photos of receipts at the time of purchase, add any other needed data, and submit.
Integrated Expense Management
CenterCard works directly with Center Expense for full visibility into all spend, including P-card purchases. Streamline review and reconciliation with custom fields, expense policy flags, and dynamic approval workflows.
User-Friendly Admin Tools
Everything you need to easily and flexibly manage P-cards and individual corporate cards.
Best-in-Class Service and Support Included
Every Center customer receives a dedicated deployment manager to smoothly and efficiently get up and running.
No Upfront Fees
Center's revenue model is based on interchange fees; every time you spend money with CenterCard the merchant pays a small fee to Mastercard, which is shared with Center.