Why Do Companies Choose To Use Corporate Cards (Or Not)?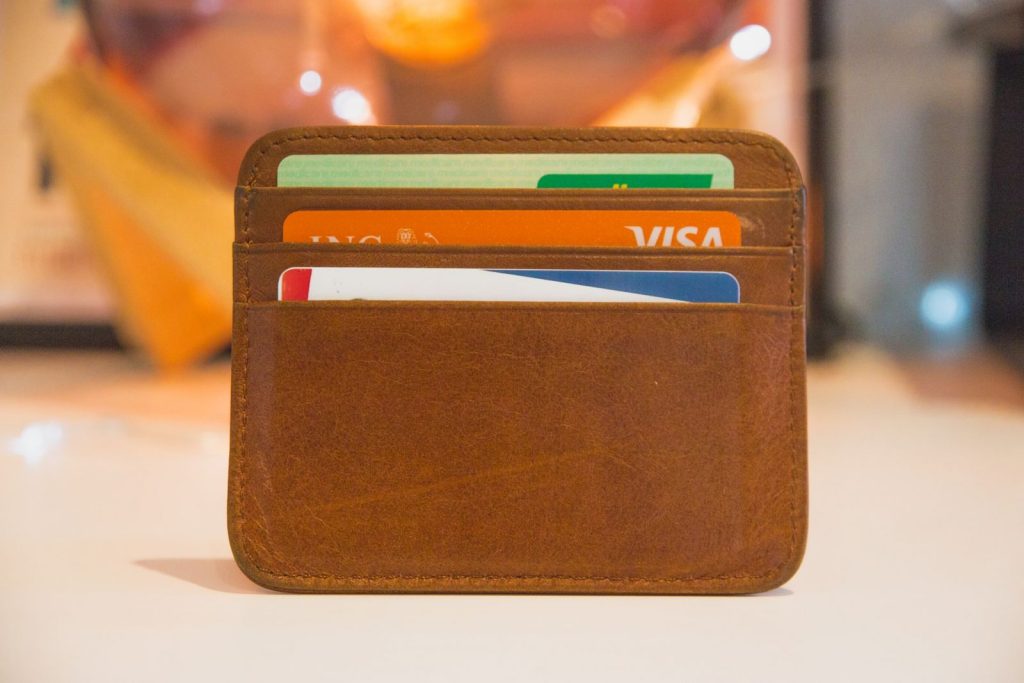 Financial decisions begin before money is spent. Our research revealed the benefits for companies who choose to use corporate cards—and the reasons some don't.

As the saying goes, you have to spend money to make money. We're deeply interested in how companies manage those expenses. In the hundreds of conversations we've had with finance execs and spenders, we often start with one question: Do you use a corporate card?
While we're enthusiastic about  a simpler, better kind of corporate card, we're well aware that some companies choose not to use them. As part of our recent 2020 Expense Management survey, we asked a few questions about corporate cards to learn more.
What Benefits Do Companies Get From Corporate Cards?
For companies that have corporate card programs (58% of respondents), we wanted to understand the benefits they experience. We asked respondents–finance and accounting professionals in US-based companies–to rate eight factors as very important, somewhat important, or not important.
How important are the benefits you get from your business/corporate card program?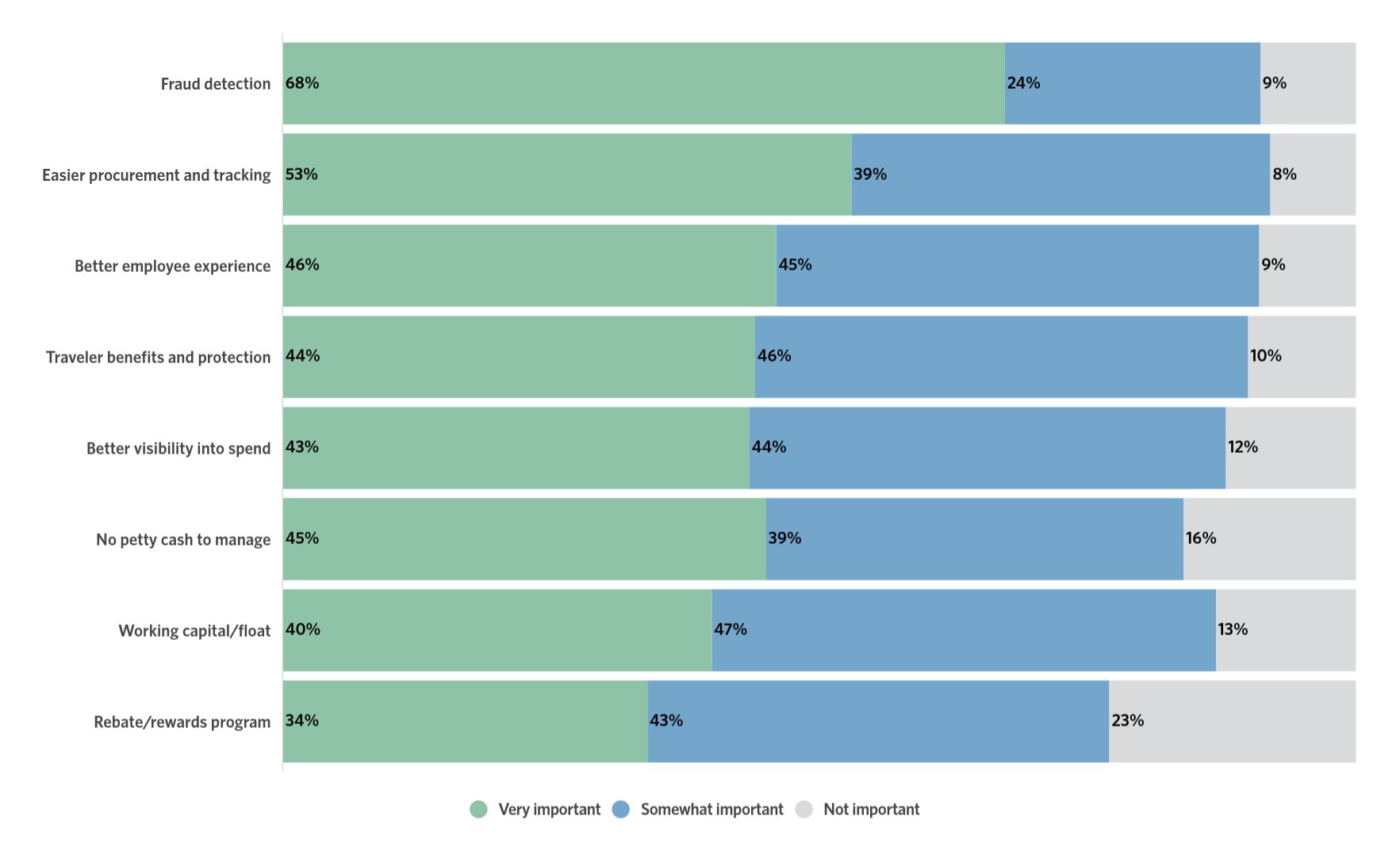 At the top of the list: fraud detection. Two-thirds of our respondents who use corporate cards consider fraud detection "very important." Companies value the visibility into spending, which makes it easier to detect unusual activity. (Interestingly, our research indicates that employees overwhelmingly want to do the right thing; they just need the right tools.)
Over half emphasized ease of use. 53% responded that ease of procurement is "very important" (and only 8% deemed it "not important"). Empowering team members to quickly pay for the things they need (think office supplies, travel expenses, and software subscriptions) is important for keeping business moving, especially while working remotely.
Rebates and rewards ranked last overall. While one-third consider rebates and rewards an important benefit, nearly one-quarter deemed them not important. We found this surprising given how heavily traditional corporate card programs tend to promote them.
Why Don't Some Companies Have Corporate Cards?
We're a firm believer that the right corporate card makes expense management much easier for everyone, so we were curious to learn more about why some companies choose not to have them. Typically, not having a corporate card means that business expenses get charged to employee's personal cards.
Why don't you have a corporate card program for employees? (Select all that apply.)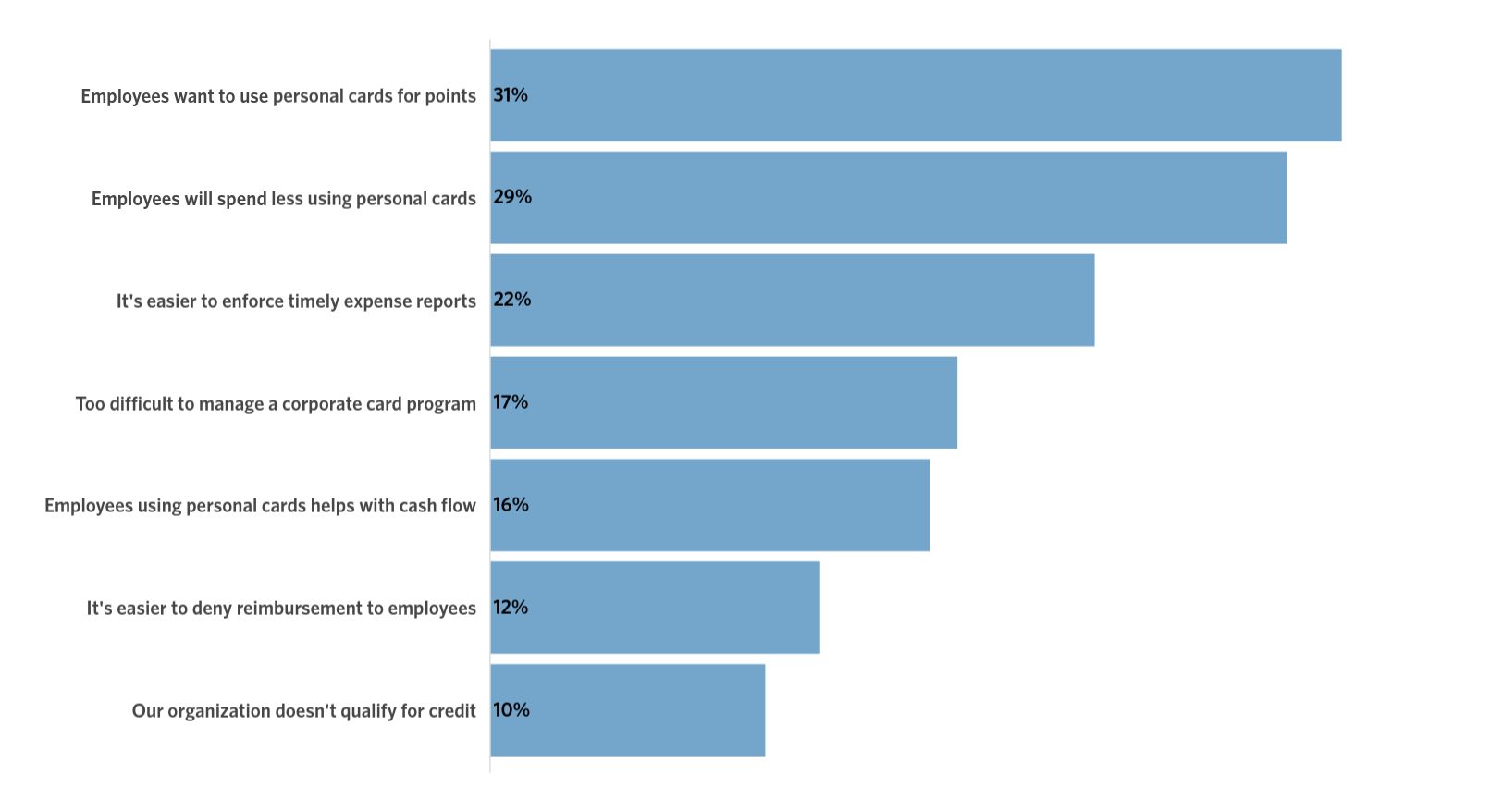 31% say employees want the credit card rewards themselves. Nearly one-third (but notably, not all) of our survey participants said that their employees preferred using their own personal credit cards because they want to get the points or cash back.
29% think that personal cards will limit spend. As a close second, we heard from companies that "employees will spend less using personal cards." We've also heard this from many CFOs we've talked to.
Some companies aim for more control. Some companies without cards may have more strict fiscal cultures. For example, 22% reported relying on personal cards, as they are "easier to enforce timely expense reports," and 12% like the quality of making it "easier to deny reimbursement to employees." This carrot-and-stick approach is one way to try to keep spending in check and encourage timely expense submissions, though we're a believer in better controls and real-time visibility.
Administrative benefits ranked lowest. At the bottom of our survey results, we saw logistical and administrative reasons for holding off on corporate cards. 17% said it's too difficult to manage a corporate card program, 16% said having employees use their own cards helps with cash flow, and 10% said they don't qualify for credit.
In the past, traditional corporate cards did require a good bit of administrative work. But today's cards are different, with many new tools and options that allow you to easily add users or lock and unlock cards so you no longer have to listen to that never-ending hold music while waiting for help.
Do Employees Really Prefer Using Their Personal Credit Cards?
Given the results listed above, we wondered if it was true that employees prefer using personal cards. Credit card points are great, but they come with an undue burden of adding hundreds or thousands of dollars to a personal statement. We reached out to 500 business spenders (people who travel for work or make other purchases) to find out how they really feel. 
TO THE POINT:
Companies cite a number of reasons for leaning on employees' personal cards, from covering business expenses, to allowing employees to earn points or cash back themselves, to encouraging fiscal control. Besides the idea that employees will spend less and submit expense reports more promptly, the biggest reason given was that employees want to use their personal cards.