Embrace Agile Accounting with Center Sage Intacct Connector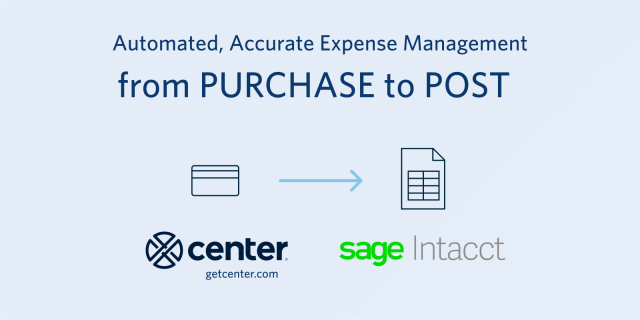 Center's Sage Intacct Connector gives you real-time visibility and control of expenses from purchase through posting to the GL.

With more than 14,000 customers worldwide, Sage Intacct is the leading cloud financial system for growing businesses. Organizations of all sizes are increasingly selecting Sage Intacct as their go-to ERP. It's not surprising, because Sage Intacct was built cloud-first to support businesses in a dynamic environment, giving them more agility in their accounting.
At Center, we believe your expense management solution should match your accounting, not the other way around. That's why we built Center with the flexibility to track employee expenses exactly how you account for them.
Our Sage Intacct Connector makes it even easier to deploy Center with your Sage Intacct configuration and post transactions from Center.
Accelerate Month-End Close
The month-end close is a busy and stressful time for accounting. The last things you need are missing expense reports, untagged transactions, a complicated reconciliation process, and guesstimated accruals.
Center speeds up the month-end close by days or more by giving you full visibility into transactions as they occur, so you're not scrambling at month-end. Employees tag transactions via Center's 5-star mobile app with the expense type, project, customer, and any other field you need so you always know where you stand. You control the approval workflow with Center's Dynamic Approvals, so you have confidence that expenses are reviewed by the appropriate roles in your organization.
With an integrated corporate credit card, expenses always match your card statement, making reconciliation a breeze. When you use the Sage Intacct Connector, your data flows directly into Intacct—no more data wrangling or manual re-coding.
With Center, you have complete flexibility to require your employees to tag expense submissions with the data you need for job costing, project tracking, customer billing, or fund accounting.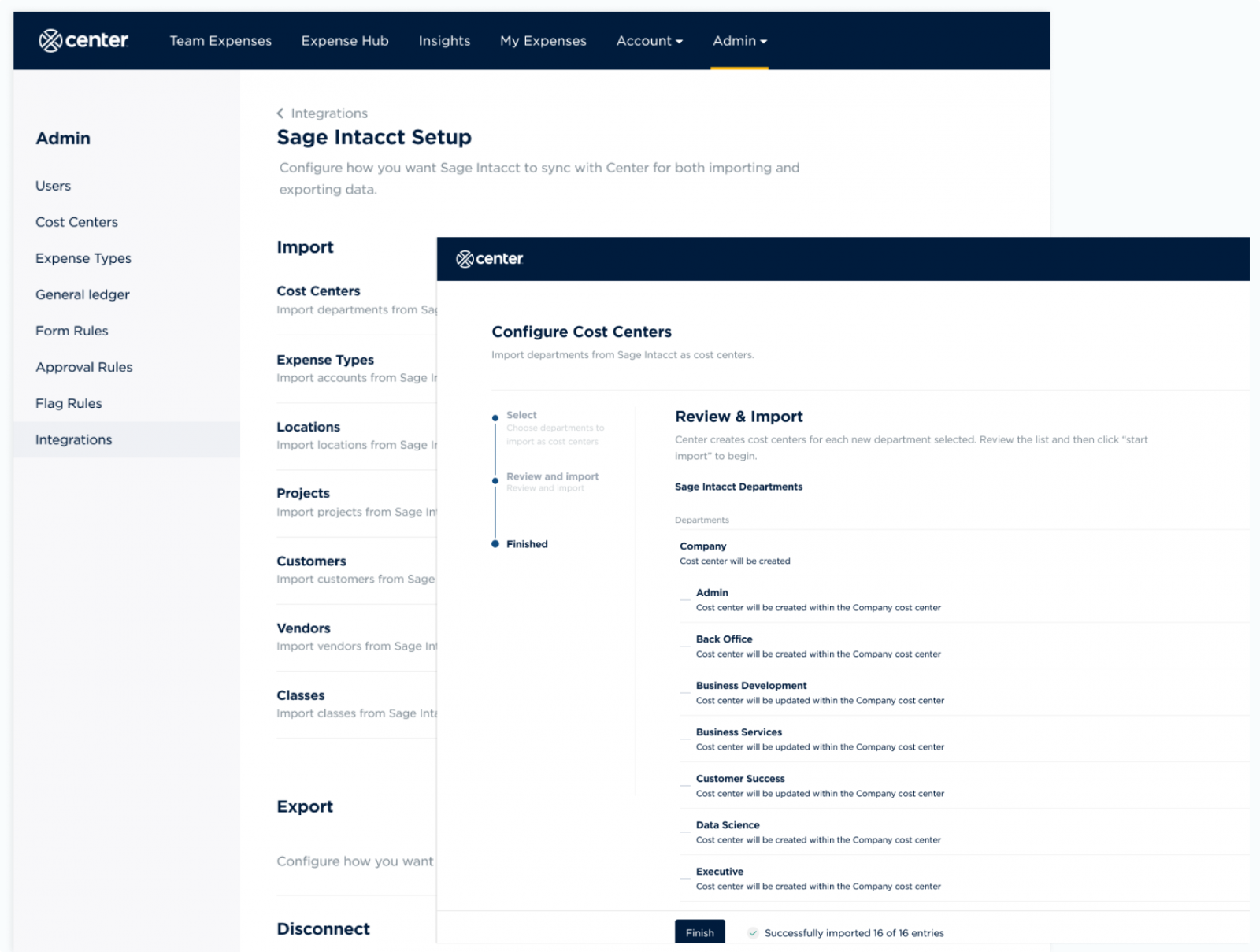 The Sage Intacct Connector automatically brings your existing accounting codes into Center Expense: you're up and running in minutes, tracking expenses your way. 
Complete Visibility and Control
The problem with the traditional monthly expense report process is that you don't have visibility into expenses until after the end of the month. When you don't know what you've spent, it's difficult to hit budgets and rein in out-of-policy spending.
Center gives you complete visibility and control of spend as-it-happens, including unsubmitted expenses, with the connected CenterCard Corporate Card. Center uses machine learning to apply the expense type automatically, and you control which fields employees need to tag for each transaction.
Center's Customizable Policy Controls automatically audit 100% of expenses and flag out-of-policy expenses immediately for further review.  Whether you use Center's analytics platform or Intacct's native reporting, you have up-to-the-minute spend data with the tags you need.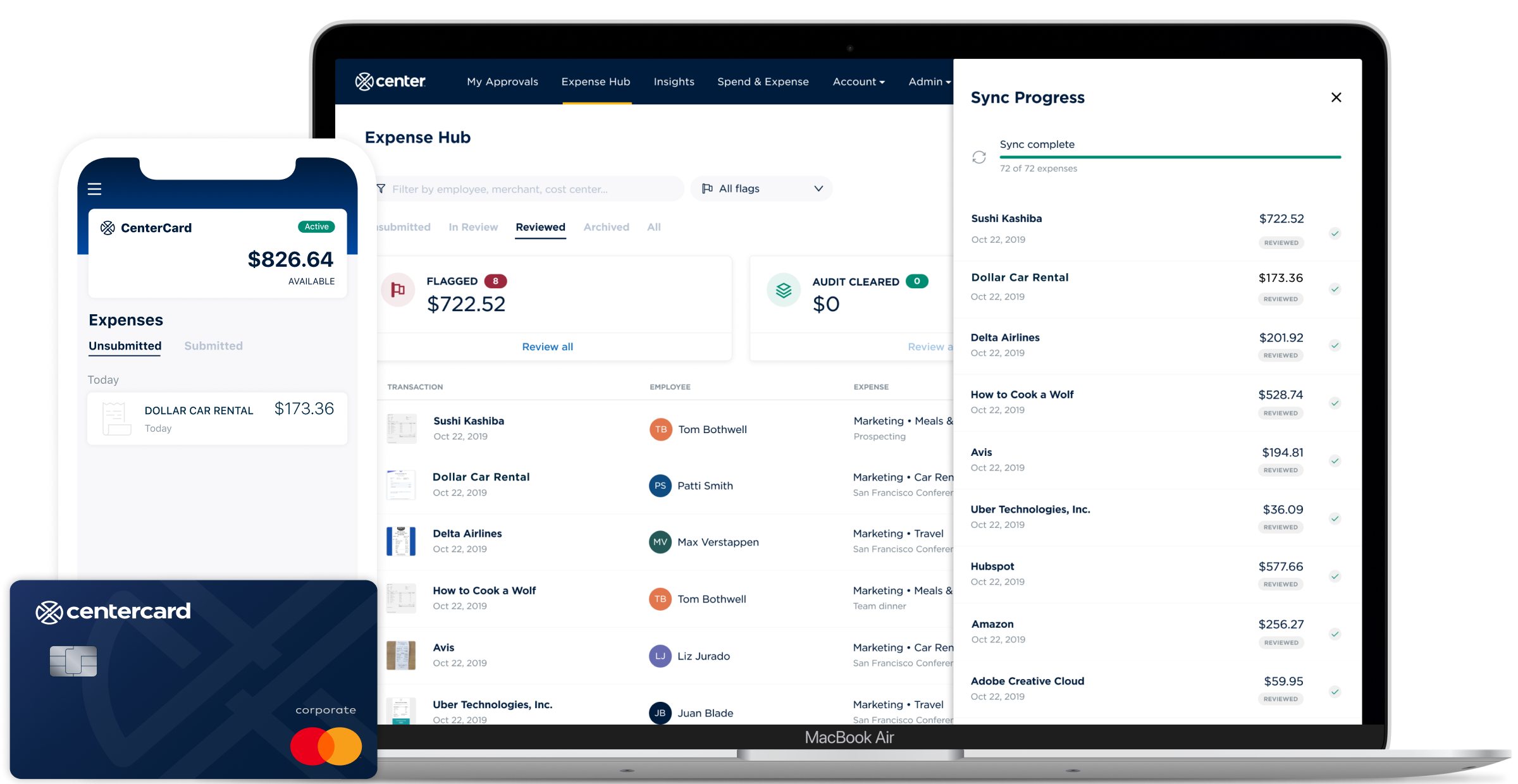 Center's Sage Intacct Connector gives you real-time visibility into expenses from purchase through posting to the GL.
Seamless Onboarding and Maintenance
Most accountants have experienced the pain of software deployments gone wrong. What was promised as be a month-long deployment can end up being shelf-ware that never sees the light of day.
Center is quick to deploy, usually taking about a week, and a dedicated account manager takes care of most of the work for you. And it's even easier with the Sage Intacct Connector. Center will sync the cost centers and expense types that matter for your employee expenses, and you can bring in your other fields, like locations, projects, customers, vendors, and classes. Center automatically syncs with Intacct to match any changes you make in your ERP, so you can focus on other priorities.


See for yourself how easy it is in this video. You can read more about how the integration works or contact our team to set up a demo.
Nik Singh is Center's vice president of product management. He and his team are working on new ways to streamline, automate, and optimize the entire expense management process, from spending and expensing through closing the books and analyzing data.